7 Benefits of Custom Sliding Closet Doors You Might Be Overlooking
When Organized Interiors is doing a closet makeover, its not just the interior of the space that were working to transform.
The closet doors are a major part of the makeover process, too.
Just as garage doors have a big impact on a homes curb appeal, the door(s) of a closet can make or break the aesthetic presentation of your closet space.
Hinged swinging doors are used most commonly for closets, but theyre not your only door option.
Why not get a little more creative and boost your closets curb appeal with some custom sliding closet doors that add a more stylish touch to a room?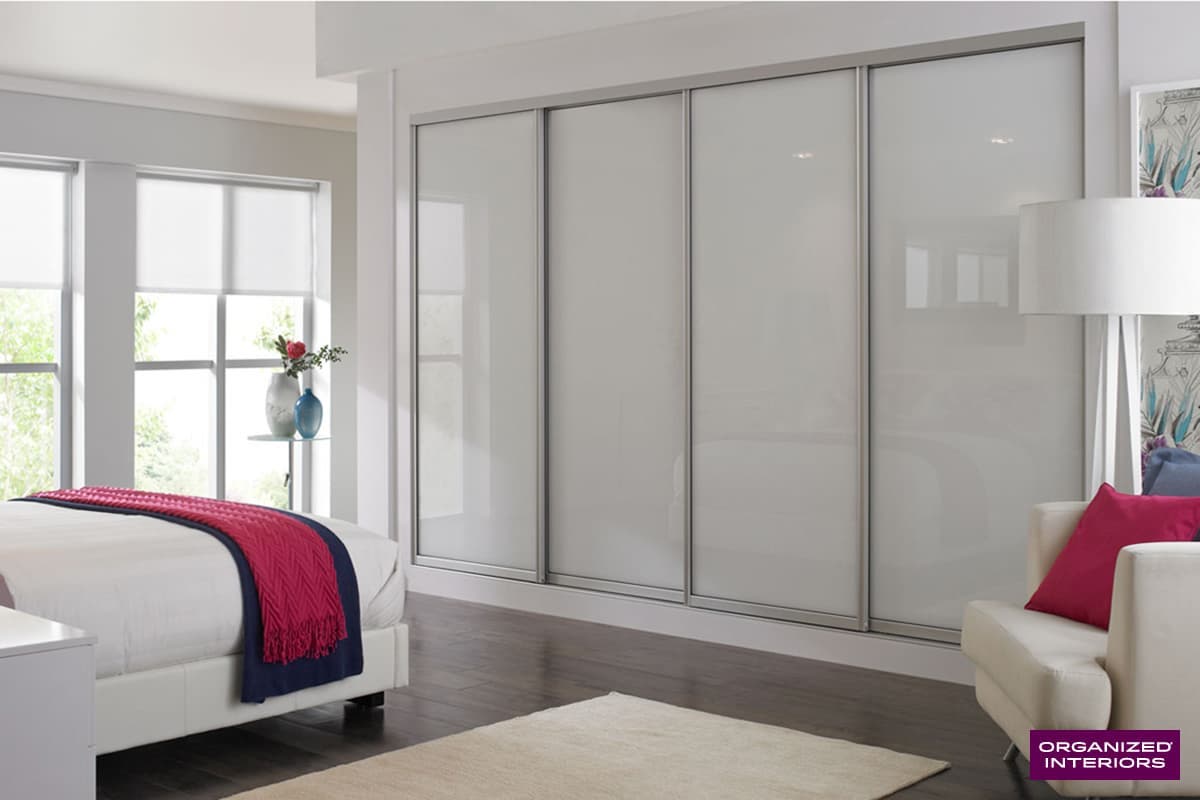 Boost your closets curb appeal with custom sliding closet doors
A beautiful closet space starts with the doors. Any successful closet makeover isnt fully completed until the finishing touch of the perfect door style with the right colour and finish is added.
Sliding closet doors that are added as part of a closet makeover (or as a standalone home upgrade) can really create a special and unique closet space.
They can do far more than just keeping your closets contents hidden. But the benefits youll get out of your sliding closet doors are directly related to what type of doors you end up buying.
Sure, you could save a few bucks by opting for a generic, mass-produced door product bought from a big box store or an online retailer that only comes in a handful of finishes.
Or you could aim a little higher with your design aspirations and choose custom sliding closet doors (also known as bypass doors) for your home.
Find out below why custom sliding closet doors are well worth the investment and how they have multiple types of functionality you might be overlooking.
1. Customize to fit both your room and your style
Custom sliding closet doors may cost a little more, but are you willing to settle for close enough with the products youre using for a home improvement project or is absolutely perfect more desirable?
Too often, buying off the shelf sliding closet doors with DIY hardware kits that only offer a minimal number of choices of finishes, styles, and sizes leaves the buyer feeling like the finished project looks merely adequate.
The style or finish may not look exactly how you imagined once everything is installed, but its close enough.
This disappointing experience just doesnt compare to the satisfying feeling of theyre absolutely perfect! that is felt when your closet doors are specially tailored for your living space, as well as your style preferences.
Theres no settling. Customization gives you a much larger selection of materials and finishes to choose from, ensuring a higher level of satisfaction with the completed project.
Organized Interiors can design sliding doors with a wide variety of panel and insert options that complement your dcor and are properly sized to suit your space.
Door insert panels with a wood grain melamine finish create a warm, earthy look that never goes out of style. For a more modern aesthetic, glass or mirror panels work nicely.
The beauty of customizing is that you can get more creative and combine different materials to design closet doors with a truly one-of-a-kind look.
2. Sliding closet doors modernize and upgrade a rooms dcor
The doors of a closet tend to be an afterthought when it comes to considerations of a rooms dcor. They do have an impact on the appearance of a room, however.
A standard white hinged closet door with panels works fine in a room, but only does so much to elevate the appearance of a space.
Closet doors come in a variety of types aside from the aforementioned sliding and swinging styles. Bifold, barn, louvered, and pocket doors immediately come to mind.
Perhaps whatever doors your reach-in closets currently have look a little outdated. Maybe years of daily use have taken a toll and left them scuffed, dirty, and looking a little too well-worn.
Replacing them with new sliding doors could be the very thing a rooms dcor needs to give it an overdue update and refresh.
The combination of the sliding doors aluminum frame and hardware, along with whichever type of insert is used, instantly adds more visual interest to a room with its modern design.
One of our most popular sliding door designs uses white semi-opaque laminated safety glass with decorative mullion strips.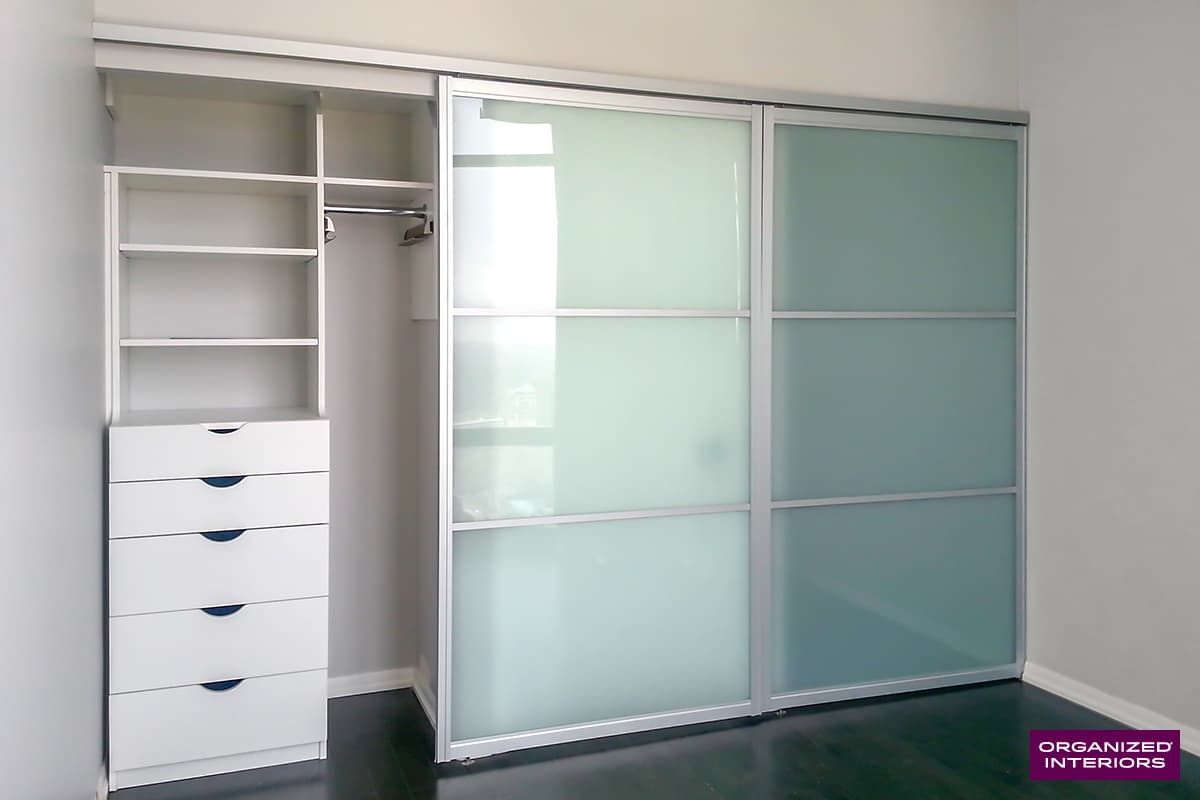 3. Superior functionality and durability
Modern technology improves just about everything and sliding closet doors are no exception.
Most older, cheaper sliding doors are made from heavier materials that require more effort to use than modern doors made from lightweight materials.
The extra weight in some of those older doors also makes them a tad noisy when theyre being opened and closed. Visit Organized Interiors showroom and try out one of our sliding closet doors and youll be impressed with how quiet they are.
Youll also notice how smoothly they open and close. Cheaper doors cut corners on the quality of the hardware and components that are used. That makes for a less satisfying user experience with the doors when compared to what you get with custom sliding doors.
Another issue you have probably encountered with some sliding closet doors is a door being dislodged from its track, getting jammed, or having the two doors hit each other when one of them is moved.
Sliding doors that are built with a high-quality aluminum frame system and reliable hardware (such as the rollers) ensures the doors operate smoothly, with less chance of performance issues over time.
The higher quality of construction materials and the precise craftsmanship that goes into the manufacturing process of our custom sliding doors (which is done in our own manufacturing facility) results in a high-calibre, built-to-last product.
4. Headache-free, precise installation by a pro
Another reason youll experience fewer issues with custom sliding closet doors compared to DIY sliding door systems is you know theyll be properly installed.
That easy do-it-yourself assembly and installation! promise on the DIY sliding door systems packaging rarely turns out to be true.
And when it comes to a product that involves moving parts that will be getting used heavily every day, a perfect installation is essential.
When your sliding doors are custom-made, a professional installation will be part of the full-service experience you get.
Our installers will save you the time and headache of assembling and installing your own sliding doors. The sliding door system will be precisely framed, installed, and tested to ensure it works perfectly.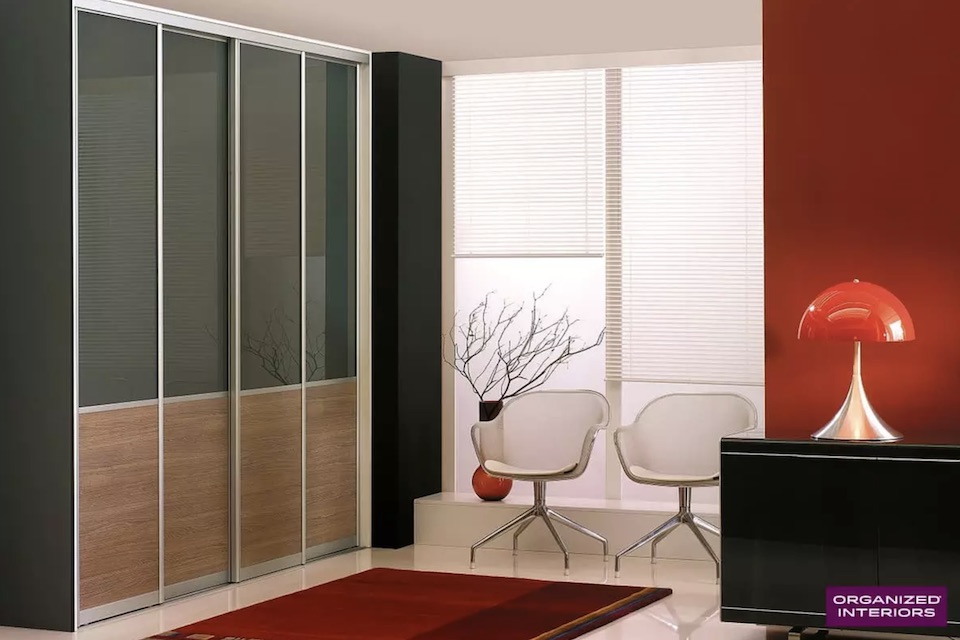 5. Change the feel of a room + enjoy more mirror space
We know that the main purpose of a closet door is utilitarian (as in it keeps a closets contents hidden).
And weve established that custom sliding doors can be a real asset when youre looking for ways to update a rooms dcor. Another benefit of sliding closet doors is they can be customized to radically affect how a room feels.
Mirrored doors will make a room feel brighter because they reflect the light so effectively. Various types of glass panels will also reflect light nicely, although to a less degree than mirrors will, obviously.
Another well-known effect of using large mirrors in a room is that they create the illusion of a room appearing bigger than it is.
Sliding doors with large floor-to-ceiling mirror panels also conveniently function as the biggest full-length mirror youll probably ever use outside of a fancy boutique or high-end clothing store!
Heres one more hidden benefit of having mirrored sliding doors: any wall space that was used for a hanging mirror or floor space a freestanding mirror previously occupied is now freed up.
6. Looking for room divider ideas? Try sliding closet doors!
You might be surprised to learn that sliding closet doors arent just for closets. They can also be used as room dividers to partition off a space in a home for privacy.
The Toronto Star recently reported that many Toronto condos have moved towards using sliding glass doors and partitions over traditional walls and doors. More office spaces are utilizing this design trend as well.
Condo developers love the design concept because it helps them save space in condo units that are increasingly shrinking in size.
But another reason this trend is growing is that theres a convenient practicality to having room dividers that also provide rolling functionality. In a condo or a house, a larger room can be partitioned off to create space for any number of uses including a:
guest room
work space
dressing room area (in a large master bedroom)
dining area
When these areas arent being used, open the sliding door to enjoy the benefits of having a more open space. When privacy is needed, the simple slide of a door keeps the two areas separated.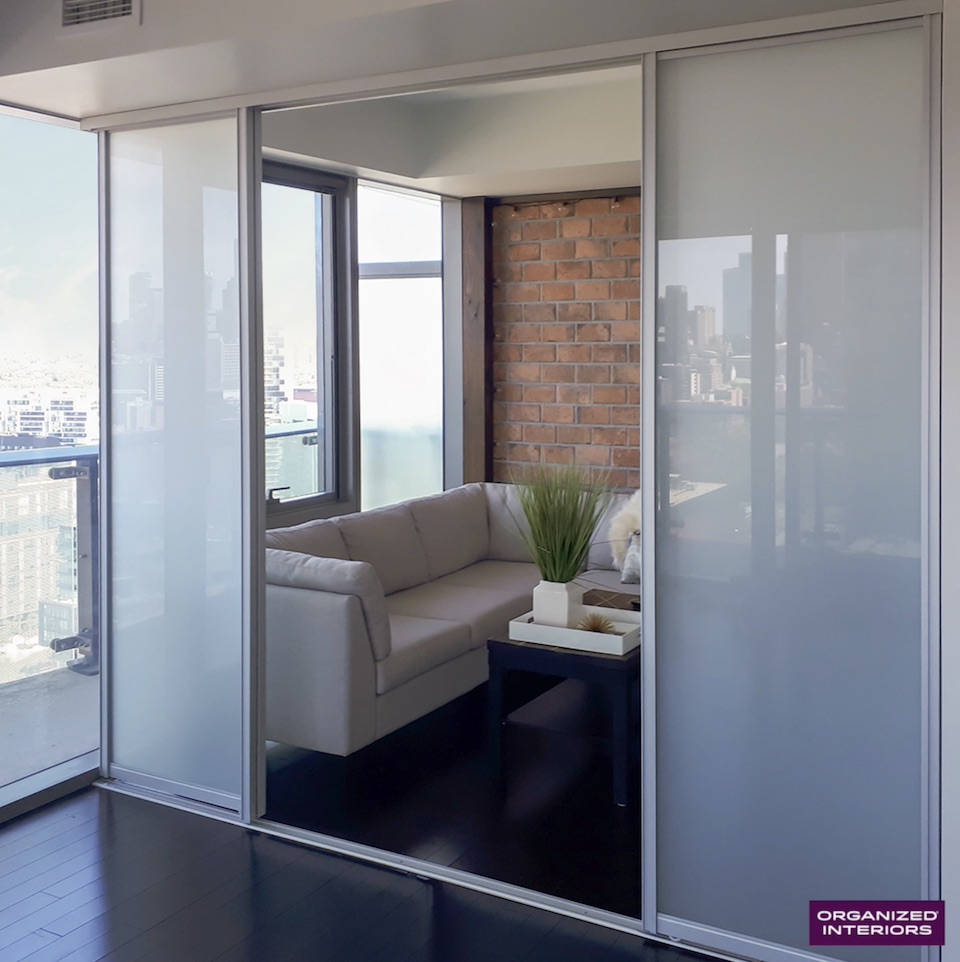 7. Need to add closet space? Sliding closet doors can help.
Are you lacking enough closet space because your existing closets are full or too small?
Older homes commonly have a shortage of closet space, so your home may have one or more rooms that lack a closet altogether.
Instead of undergoing a costly renovation to create a traditional closet space, use Organized Interiors create-a-closet.
This cost-effective storage solution allows a closet space whatever size you need to be added to any room. We simply install gables and the sliding doors of your choosing to create instant storage space that looks stylish.
Another clothes storage option that nicely supplements your closet storage is a wardrobe, which can also be customized to match your dcor.
Take advantage of these custom sliding door benefits
As youre now aware, its not just about whats inside a remodelled closet space that makes it exceptional.
If your current closet doors are feeling outdated or youre looking to take advantage of one of the other ways in which sliding closet doors can improve your home, take a few seconds to request a free in-home consultation with us.
One of our design consultants can show you the wide range of sliding closet door solutions we have available, provide design suggestions, and answer any of your questions.
Please share this post if you found it useful.
See also: